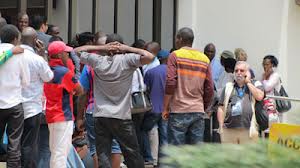 It's amazing when fans never let their teams go no matter the situation, they hold on to their team and follow up with every emotion, singing, jumping shouting, body paintings of all kinds just to make sure their presence count for their teams victory.
This could be called "fan craze", as many of them do this just in the period of football play.
However, fans form long lines just to purchase tickets to watch their favourite teams play in the ongoing Africa Cup of Nations (AFCON 2013)
How many fans would lead their teams to the end for victory?
How many fans would drop as their teams don't make it to the quarter-finals?
How many fans would cry with shock and emotions running with tears?
Let's watch how fans support and lead their teams to victory with flags, colours, paintings and shout fas the sound their Vuvuzela.
Read also:
http://en.africatopsports.com/2013/01/19/afcon-2013-fans-can-withstand-the-wet-weather/