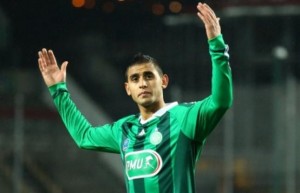 After his participation at the last African Cup of Nations with Algeria, Faouzi Ghoulam found the path of  lawns of French League 1.
International Algerian of AS Saint-Etienne made his first appearance on the occasion of the 25th day against Reims.
The comeback of Algerian defender was not synonymous of victory for St Etienne. AS Saint-Etienne could not do better than a draw (1-1) against the Reims.
Faouzi Ghoulam regretted having squandered a fifth consecutive win for his.
"We had a good command in the first half, we knew they would grow in the second. They had several opportunities and still persevering, it paid for them. "
Green defender was not titular at the start of the game. He made his entry into the game at the 78th just after the goal of Reims.
"It was not unworthy, we had opportunities on difficult ground. We wanted to follow up with a fifth consecutive victory, but it is an outside point which is good to take, even if you have some regrets," he conceded.
Ghulam, full titular on the left side of the defense St Etienne since the beginning of the championship, had lost his place during his long absence in January when he was honored with his first seletion with  Fennecs to compete in the 29th edition of AFCON in South Africa.