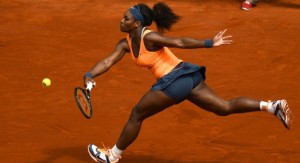 The youngest of the Williams is hardly qualified by defeating the Spanish Anabel Medina Garrigues, 63rd worldwide after three strenuous sets (6-3, 0-6, 7-5).
The American Serena Williams shook this Friday before qualifying in extremis in three sets in the semi-finals of the WTA tournament in Madrid.
The younger of the Williams sisters, seeded No. 1 and defending champion has emerged with a 6-3 0-6 7-5 victory over the Spanish Anabel Medina Garrigues.
The Russian Maria Sharapova (No. 2) had, on the other hand had much less difficulty to get rid of the Estonian Kaia Kanepi, 6-2 6-4.
The Italian Sara Errani (No. 7), who will face Serena Williams in the final four, qualified by defeating the Russian Ekaterina Makarova 6-4 6-3.
Maria Sharapova can always hope to dethrone the No.1 Serena Williams, providing to spend one more round in Madrid.