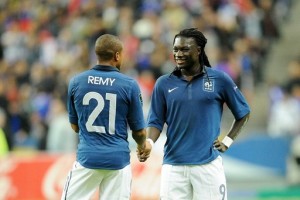 With the case of alleged rape which Loïc Remy must face, French football shows off more in the various facts than on the field in recent years.
From the highly publicized case of Zahia, to the twins of Evra through the escapades of M'Vila here are some sexual scandals of French internationals who take the obverse of the exemplarity duty by the Blues listed by sport.fr.
Ribery, Benzema at the center of the Zahia case
April 2010: Although even before the Blues of Raymond Domenech go to shine in South Africa with the episode Knysna during the 2010 World Cup, the team of France was shaken up with the placing into custody (by Brigade repression of pandering in Paris) of Franck Ribery and Karim Benzema. They are then accused of having sex with Zahia Dehar, a minor at that time. A detail unknown to the two players recognized Zahia.
The escapades of M'Vila
August 10, 2011: Before being quoted in a sex case that has long been talked about in February (editor's note, the girl of 17 years denied having sex with him), the former midfielder of Rennes was at the actuality of the diverse for having been robbed by prostitutes. He offered to himself with friends a fun time in a hotel after a friendly match between the Blues and Chile. A watch of 10 000 Euros and many other items were taken by the ladies who have since been sentenced.
The shaken panther
June 13, 2012 it is the Panther of Lyon, Bafetimbi Gomis who is placed in custody with his former teammate in Saint-Etienne, Yoan Banalouane for rape "by several authors" on a woman of 38 years. The two men spent two nights in custody, confronted with the complainant. Gomis's apartment was searched. A video of the sexual act, deleted, is sought, without success. Gomis is released.
More on sport.fr