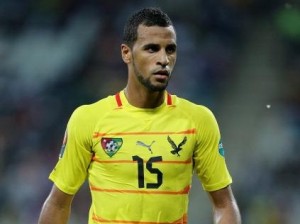 Togo admits his mistake. In the sights of FIFA for aligning Alaixys Romao during the fourth day of 2014 Brazil World Cup playoffs, Togo has admitted his laxity. "It is true that the Togolese team did not attempt to establish the eligibility of the day before the match," said Gabriel Toussa Komi member of the Togolese Football Federation (FTF) on BBC.
The midfielder of the Hawks should not be aligned for the match Togo-Cameroon (2-0) for accumulating yellow card "It's a technical fault from the directors of the federation," admits the first vice-president of FTF Herve Piza who went on by doing his "mea culpa to the Togolese authorities and the public."
Recognizing the fault of the FTF, Herve Piza adds "there is no reason for me, to appeal" on the decision of the world football body, hoping that "FIFA will not be severe. "(see the full interview on the site). A revocation of points or a fine may be pronounced against Togo.
Also within the scope of an investigation, Ethiopia has also moved to confess. The campaign of Brazilian World playoffs was marked by numerous sanctions against the African teams. Burkina Faso and Gabon have lost points for fielding ineligible players. Sudan has been suspended for its part.