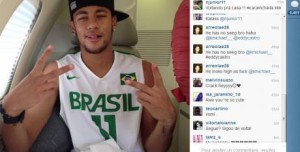 As Africa Top Sports. com had announced, Neymar, new star of Barcelona, was tonsils out last week in Rio. The relatively simple enough, it is true, went well. Barca is reassured.
The Spaniard Jordi Alba, also underwent the same surgery near Barcelona.
"The recovery time will be about ten days," says Barca.
The Brazilian international striker was released from the hospital today.
He will make his debut at FC Barcelona on August 2 against Santos at Camp Nou.
Meanwhile, he will take a few days holiday in Santos. He is currently in the airplane. He just posted a photo in the plane with a t-shirt of Brazil!
Barcelona fans are a little disappointed!