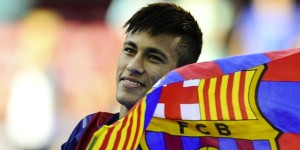 After a last game for a good cause, Neymar (21 years) will put away the cleats for a well deserved vacation.
Author of 5910 minutes, or more than 65 games during the 2012-2013 season between Santos and the Seleçao, the Brazilian striker, who successfully underwent tonsils out surgery is the player who has spent more time on the fields.
Also after a successful Confederations Cup with the Seleção selection, the best player of the competition is expected in Camp Nou on July 29.
He will make his comeback on August 2 with his new team, FC Barcelona.