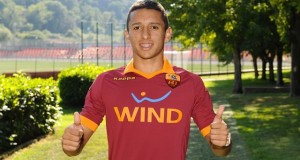 After several weeks of negotiations, the arrival of Marquinhos to Paris Saint-Germain is precised. The defender of AS Roma is currently undergoing his medical examination
.
The Brazilian central defender who leaves AS Roma is currently in training camp and is expected to sign in PSG, the different parts being agreed on the terms of the transfer. The Brazilian should have an initial five-year contract for $ 32 million plus bonuses approaching € 3 million.
Sold last year by Corinthians to the Italian club for five million Euros after a successful six-month loan, the 19-year-old will make again his former club benefit from a significant influx of money.
Corinthians actually retained 5% of the economic rights of the player and receive nearly 2.5 million from PSG. In addition, the Parisian club must pay more than 1 million Euros to Corinthians as training indemnities.