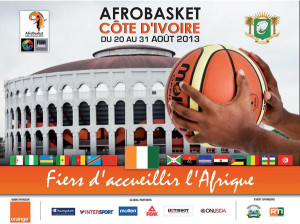 The 27th edition of the Afrobasket opens today at the Palais des Sports in Trecheville (Abidjan). Fifteen nations attempt from August 20 to 31 to dethrone Tunisia, winner of the 2011 edition.
Four posters are planned for the first day: event host, Ivory Coast in Group A, will be running its input from 17.30 against Algeria.
The first tussle of the group will oppose the Lions of Senegal to Egypt at 3 pm. But before group A, the honor goes to Central Africa and Mozambique in Group C, to open the race for the podium in this Afrobasket within the scope of 12h 30.
The second match of the group opposes the most successful nation, Angola, one of the favorites for the title to Cape Verde to close the first day.
All these meeting times are in Universal Time.