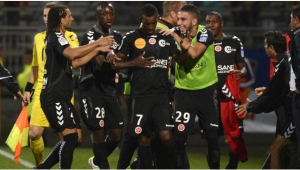 Reims inflicted to Lyon its second defeat in four days. The champagne won at Gerland 1-0 in a match completely dominated by the Gones.
A victory with success because in this part, all played against Lyon. The Club of Jean-Michel Aulas has first hit the pole by Lacazette before missing a penalty in Attic Play in the second half. And they clashed repeatedly the Togolese goalkeeper Kossi Agassa.
Then Odair Fortes arises. The Cape Verdean sent a strike in the cages of Anthony Lopes. The shot is deflected on the way by Bisevac who thus confused his own goal.
So another defeat to Lyon after that of Tuesday against Real Sociedad in the C1 dams.