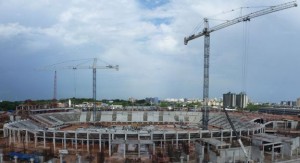 The stadium of Manaus, which will host matches during the 2014 Brazil World Cup, could be transformed into a prison after the competition. The idea has been issued and even submitted to the authorities by the Brazilian justice which thinks of materializing the idea.
"This is one of the options on the table and that was proposed by the regional authorities," said a spokesman for the prison system in the state of Amazonas.
The ability of the future housing may reach 44,000 seats, we learn. It would not be a prison, but ultimately would be used as accommodation for the first row before being transported to a prison where they will be sentenced. Funny decision to avoid overcrowding in prison!