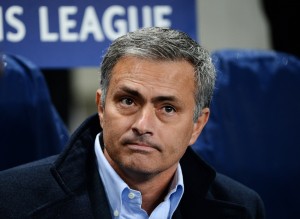 Africa Top Sports reported a few minutes ago that the Bleues of Chelsea qualified for the UEFA Champions League knockouts despite a shock 1-0 defeat to Basel at St Jakob Park in Switzerland Tuesday night.
Unhappy with the loss, manager Jose Mourinho of Chelsea starts to find the reasons for the defeat in order to correct the mistakes for upcoming meetings.
Mourinho eventually found that a bad performance of his players due to tiredness was the reason for their defeat.
"A bad performance, a deserved defeat – but because of other results we qualify mathematically and that is the only positive thing for this night that we qualify for last 16," Mourinho told Sky Sports.
"Now we have to get a result at home to finish first, so that is the only positive thing."
"I didn't like it from the first minute, we started with a defensive mistake immediately, the first time we were in the game we made a defensive mistake – I think we only had a little bit of stability and control in second-half but I felt the team was tired."