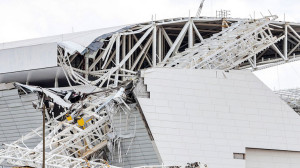 This tragedy in the World Cup stadium in Sao Paulo will serve as an eye-opener to FIFA and the Local Organizing Committee about construction workers' safety.
The shocking up-to-date is the death of two construction workers in an accident on Wednesday. Urgent safety check have already been undertaken to find out how a crane collapsed whilst lifting a section of the stadium's roof into place.
Corinthians, who will play their home games in the stadium once it is completed, confirmed the deaths on their website, in a joint statement with the constructors.
The statement said: "Odebrecht Infrastructure and Sport Club Corinthians Paulista regret to inform you that in early afternoon an accident during work at Arena Corinthians caused the death of two workers – Fabio Luiz Pereira, 42, driver/operator of the company BHM Munck, and Ronaldo Oliveira dos Santos, 44, builder from the company Conecta."

Brazil-based journalist Tim Vickery believes heavy rain may have been a factor in the tragedy.
Corinthians announced the club would respect seven days of mourning for the victims of the tragedy, and according to reports in Brazil construction workers have been given leave for the next two days.