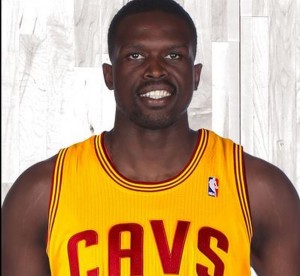 The drama, " the future of Luol Deng at Chicago" , ended Monday night. The British winger whose contract expired with the Bulls late in the season does not go to completion. The All Star will not finish his 10th NBA season at the United Center since he has been subject to a deal between the franchise in Illinois and the Cleveland Cavaliers.
Luol Deng has been swapped with the pivot Adrew Bynum. The former Lakers interior who arrived at the Cavs this summer that will has just spent some months. The deal includes three choices of the next draft for the Bulls (first round and two second) and the right to make an exchange of picks in the first round of the draft in 2015. Not in great shape this season, Chicago indulge into a rebuilding mode, while the Cavs through this exchange will strengthen height in item 3.
"We are very excited about Luol Deng joining our organization. It is a player who represents what we want for our team a fantastic defender who can affect both sides of the field while keeping a collective spirit, " said via a press release announcing the transaction GM of the franchise of the Ohio Chris Grant.
That said, Luol Deng, whose contract expires at the end of the season will have the opportunity to engage in the franchise of his choice if he does not continue with Cleveland. The native of Wau who had known only the Chicago Bulls in the NBA is currently conducting his best season with 19 points, 6.9 rebounds and 3.7 assists average.