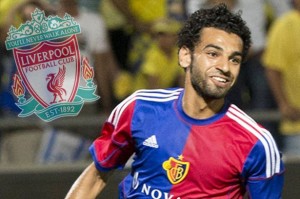 The young Egyptian nugget, Mohamed Salah is in the viewfinder of Liverpool in search of resources to strengthen their attack. A possible transfer that a relative of the player has already confirmed in December.
Seduced by his performances in the Champions League with FC Basel , especially against Chelsea , Liverpool seeks to enlist Mohamed Salah this winter. According to the Daily Mirror, the Reds are ready to offer 8 million pounds (about £10 million) to the Swiss club.
If the case drags since early January, Brendan Rodgers would have received the green light from club owners to make this offer to Helvetian leaders. The 21-year-old Egyptian would be particularly attracted to the Premier League but Basel would demand 17 million Euros.
Very good technician and versatile on the front of the attack, Salah would be an interesting reinforcement for Liverpool, who hope to stay in the top 4 in the league to find Europe next year.