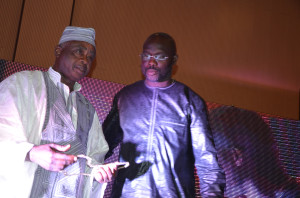 Exceptional setting, memorable ceremony. The square of events, the Latrille Events in Abidjan was the setting for the second edition of the African Football Night, the event that rewards the best players in the continental football of the past and the present. And once again, the organizing committee has once again pointed out some commendable continental icons of the game. With a winner: Ivorian Yaya Toure.
Year of his consecration, the midfielder of Manchester City brought home two trophies: the honor of the NFA for his three consecutive African Ballon d'Or trophies, a performance that only two players have achieved previously in the continent (Abedi Ayew Pele and Samuel Eto'o). Then the former Barcelona, represented by his father Mory Toure (pictured left with George Weah) walked away with the NFA Grand Prix award for best African player of the season. He was nominated along with his compatriots Drogba, Gervinho and Seydou Doumbia, Gabon's Aubameyang, Cameroonian Vincent Abubakar and Nigerian Uche Ukechukwu.
See you next year in Malabo!
The jury chaired by former Cameroon international Patrick Mboma therefore ruled. Furthermore Yaya Touré, other African football players were honored, especially for their careers. Thus, Anthony Baffoe, Antoine Bell, Roger Milla and Rabah Madjer received honorary prizes.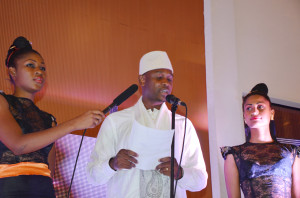 As in every edition, the NFA rewards social actions of footballers and this year it is the Kalou Foundation which left with a special incentive prize for humanitarian engagement in Côte d' Ivoire in particular. Finally, the Algerian Faouzi Majoub who died this year received a posthumously award for his career as a sports journalist in the continent.
A tribute was paid through songs and dances to Brazil, the land of football and hospitality for the next World Cup. Yves Sawadogo (photo right), promoter of the African Night Football has the sense of accomplishment: "This is the second consecutive year that brings together the cream of African football and it is a real satisfaction for us. We believed in football and we will do everything for its development. Good luck to the 5 teams that will represent Africa in Brazil", he dropped at the end of the ceremony. Your favorite website was obviously there and represented by journalist Steven Lavon (photo below).
Great personalities of African football were present: Pape Diouf, Roger Boli, Bonaventure Kalou, Alain Gouaméné etc. . . .
Next rendezvous next year in Malabo, Equatorial Guinea.