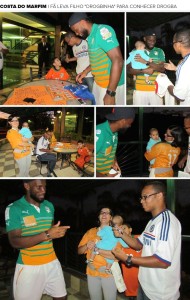 In Brazil, people go all out to welcome their guests. Côte d'Ivoire who settled there for three days can attest this. Monday, a family came to visit the Elephants and especially their captain Didier Drogba.
The family has introduced to the Galatasaray striker, their latest born (João Miguel Neto Daniel Logan Drogba Costa do Marfim). And surprisingly the baby is called "Drogbinha" meaning small Drogba. Moreover through images, we can see that the family is a big fan club of Drogba. Dad in the colors of Chelsea, the other child and mom in Ivorian national jersey, orange.
Needless to say that this tribute moved the Ivorian who posted pictures of his meeting on Instagram. "The Drogba family still grows up with " drogbinha "! God give long live and success in this beautiful family," he said.
We remember that this season in Turkey, a family named their son Drogba to honor the former Chelsea Blues striker.