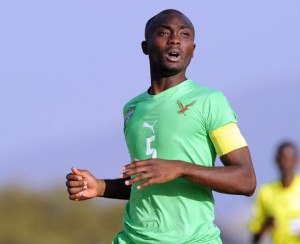 It is the player's words to Togo. Serge Akakpo, up to now Eperviers' vice captain of Togo gives up this role. This decision is made, though CAN 2015 playoffs will begin in two weeks time. On his official Facebook page, the player of Hoverla (1st Ukrainian division) gives some explanation about this decision.
" I wish to announce that for the playoffs of CAN Morocco 2015 which will take place from September to November, after a long and mature personal reflection, I made the decision, no matter circumstances, not to occupy any more the post of vice – captain and not to be in any position which is connected to the Captaincy. This decision is partially due to the fact that I wish to find the sensations which I had during my beginning in selection, by being simply a player who comes to defend the colors of his homeland ", wrote Akakpo.
The player trained in AJ Auxerre evokes personal reasons in this choice: " also, for personal reasons, during the next campaign, I would like to concentrate exclusively on my game and to give the best score in order to help my country  which has to qualify itself by all means for CAN  2015 in Morocco ".
For two years, Serge Akakpo has had a role of vice – captain of the Eperviers but he assumed repeatedly that of the captain because of Emmanuel Adebayor's absences.