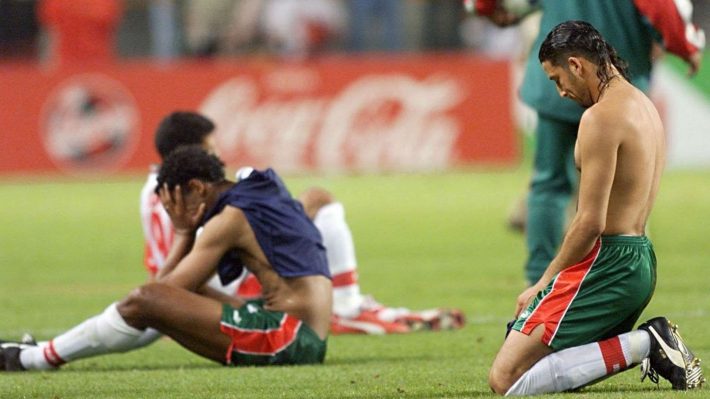 June 23, 1998 – June 23, 2020, 22 years ago today, Morocco leaves the competition from the group stages but with honors. A World Cup that Mustapha Hadji and his teammates will never forget compared to the elimination scenario considered cruel.
Housed in Pool A with Norway, Brazil and Scotland, the Atlas Lions had shown some very shiny football. Under the leadership of Henri Michel, Morocco shone in the competition. But the dreams of a round of 16 have faded.
It was all about the third game. After a draw against Norway and a 3-0 loss to Brazil, Morocco had to beat Scotland and wait for the Norwegian's draw or defeat to qualify. For its part, the Atlas Lions did the job by atomizing (3-0) the Scots. At the final whistle, they have their foot in the second round. But in the final seconds of the other match, Brazil lost to the penalty spot (2-1). It's Seleçao and Norway that pass. A cruel elimination. A fact that is etched in the memories of Mustapha Hadji.
"When you see again after the game of Scotland where we win 3-0 and there are only thirty seconds left to play in the other match between Brazil against Norway, we looked at each other and we said to ourselves: 'that's it, we pass the first round'.
"And in a fraction of a second, we went from joy to enormous sadness. These tears, we shared them with all Moroccans. These are very difficult moments to live with, but on the other hand, we stayed positive because we really gave a positive image of our country, of our football,"he told Goal.
Dreams of qualifying for the second round of Morocco have vanished at Stade Geoffroy-Guichard. Despite the disappointment, the selection left good memories in this World Cup played on French soil.