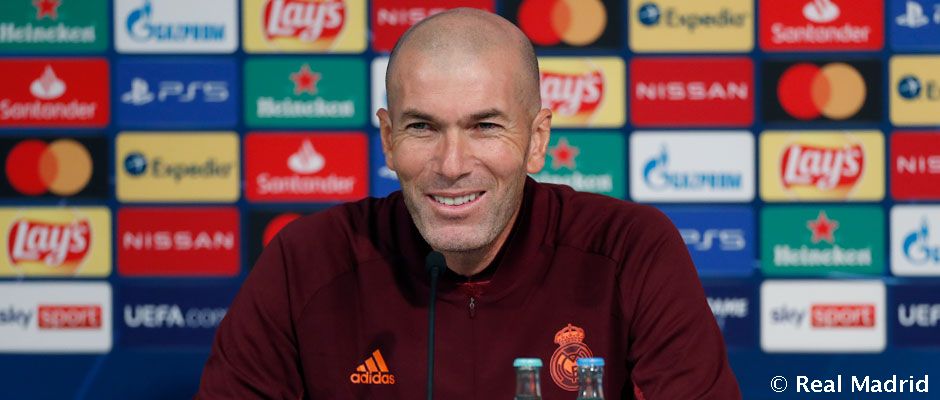 Zinedine Zidane wants his players to replicate the performance that saw them win Barcelona 3-1 at Camp Nou in the El Clasico against Borussia Monchengladbach.
Real Madrdid bounced back to winning ways with an emphatic win against their arch-rival, Barcelona after losing their Champions League opening game against Shaktar Donetsk at home.
The Los Blancos travelled Borussia in search of their first win and Zidane wants his players to start focus and strong through the 90 minutes on Tuesday.
Speaking in his pre-match Conference at  Borussia-Park before the final training session ahead of the Champions League clash against Borussia Mönchengladbach Zidane said:
 "We're pleased with how we performed in El Clásico and are happy with how we did. 
"We put in a good team performance for the 90 minutes and we know that we face a tough side tomorrow who are capable of causing you problems at any time. 
"That's why we'll have to stay strong for the whole 90 minutes to try and reproduce our performance from the weekend and take the points". 
"The performance we delivered in El Clásico is exactly the kind of display we need to produce tomorrow. 
"We played well, fought as a team and the most important thing is that we try and do that tomorrow.
" We've got to reproduce what we did at the weekend. 
"We've got to put in a good performance and we know the situation we're in this, our second Champions League game. 
"We'll have to stay focused for the 90 minutes, fight and battle.
"It'll be tough and we'll have to be focused on what we do out on the pitch".
Asked if he will rotate the squad in Tuesday game, Zidane said he will definitely bring in some players especially in the right back position.
"We know it's a long season and that we'll need all of them. 
"I've always said that and will say it again. 
"We've had some problems with players in the right-back position,
but there are other players who can come in for them and there'll be no problems tomorrow".
"The fact that [Eden] Hazard is with us means that he's fine and that's good news for us. 
"We're all pleased he's with us and we'll see how we use him tomorrow.
" The important thing is that he's back and that's a big positive for us".