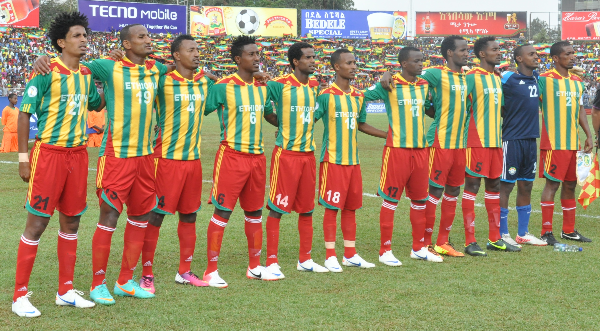 Ethiopia trounced Niger 3-0 at Bahir Dar Stadium in a group K clash of the 2021 Africa Cup of Nations qualifiers played on Tuesday afternoon.
Amanuel Gebremichael put the hosts ahead in the 13th minute before Mesud Mohammed doubled the lead with two minutes to half-time.
The hosts led 2-0 at half time. In the 73rd minute, Getaneh Kabede completed the rout with a cool finish.
The win saw Ethiopia take their tally to six points from four games, one point behind joint leaders Madagascar and Ivory Coast, who settled for a 1-1 draw in another match played on Tuesday.
Madagascar and Ivory Coast have seven points each.
Line ups for Ethiopia and Niger:
Ethiopia: Shanko, Yusef, Hamid, Tamene, Baye, Gamo, Mohammed, Bekele, Nassir, Gebremichael, Kebede
Niger: Alzouma, Mamoudou, Lybohy, Garba, Seyni, Amadou, Yao, Diabate, Oumarou,Moussa, Hainikoye