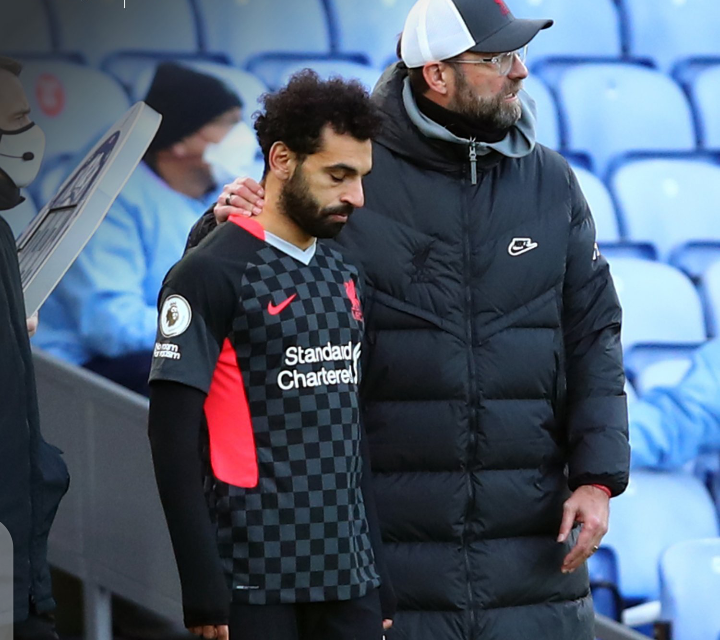 Liverpool manager Jurgen Klopp has explained the rationale for not starting
Mohamed Salah
in the 7-0 win against Crystal Palace.
The Reds moved six points clear at the top of the Premier League table and ensured they'd be sitting at the summit on Christmas Day as they hit top gear in London.
Takumi Minamino set them on their way inside three minutes when he swept in a first league goal for the champions.
Sublime strikes from Sadio Mane and Roberto Firmino followed before the interval, though Palace created a handful of opportunities which they were unable to capitalise on.
Liverpool showed no let-up after the break as Jordan Henderson rasped in a fourth before Firmino clinically added goal number five.
Mohamed Salah came off the bench to round off the scoring with a close-range header followed by a magnificent curling effort to make it seven and also provided an assist.
Klopp while speaking in his post-match conference said he needed fresh legs f9r the game after the team involvement in league action on Sunday and Wednesday.
He said, "It's just the first time for a while that we have the opportunity to do something like this. We played Sunday-Wednesday, so we needed fresh legs today. 
"So Joel could come in, Naby could come in and then we had to think about how we can deal with that in the first line and Mo played the last four games, so a massively intense period. So it was clear it will be him.
"Then usually you would expect in a game like this against Crystal Palace – the result recents between us and them were always pretty tight – so bringing him in the last half an hour, I thought it's a good idea. 
"We did that, by the way, but it was not exactly the scenario we would have expected, of course. That's it."
Asked if his tea has hit their best of form following their not-too-good start to the season, Klopp said;
"We dealt the whole season already only with the circumstances – with the injuries and stuff like this, you cannot prepare, you just have to sort these kind of problems. 
"We all know, we had a lot of problems and when one started it just leads to the next problem and that means you have a player less at centre-half and then another one has to play seven times in a row because nobody else was fit and the young kids were not ready and all these kind of things. 
"It doesn't stop. In the moment, it's just one hour after the game where we think it's fine – but from tomorrow on we try to prepare for all the different scenarios again and do what we have to do to make sure we will win football games in the end of December. 
"It's just tough and nothing to be satisfied or whatever."