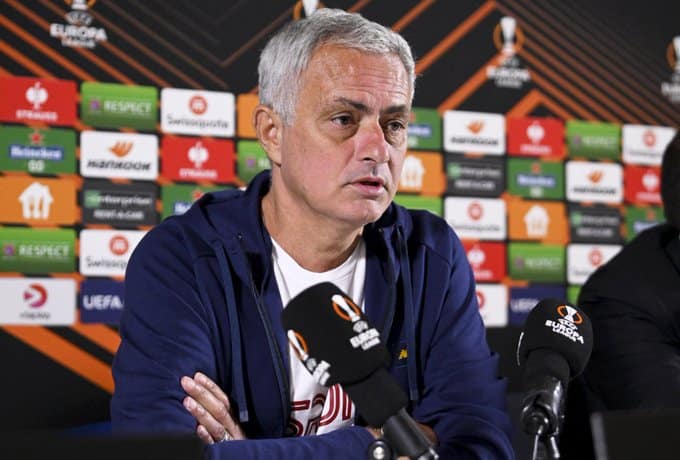 As his club gets ready for the first leg of the Europa League semifinal against Bayer Leverkusen at home on Thursday, AS Roma coach Jose Mourinho jokingly dismissed persistent rumors about obtaining a managerial post at Paris St. Germain.
Mourinho confirmed his allegiance to Roma, where he is now employed and has a contract through 2024, despite rumors that he would succeed Christophe Galtier as owner of the Ligue 1 club in the 2023–24 season.
"If they called, they didn't find me," Mourinho told Sky Sport Italia on Wednesday before the pre-match news conference.
When Roma takes on Xabi Alonso's team on Thursday, they will be up against a dangerous opponent. Notably, from 2010 to 2013, Alonso was an essential part of Mourinho's success at Real Madrid.
Together, they won significant awards like the Spanish Super Cup, Copa del Rey, and LaLiga.
Mourinho showed his admiration and praise for the former Spain player during the press conference.
"I haven't seen him for a long time. We've always had a fantastic rapport, more than between a coach and a player."
According to Mourinho, the German team is among the best in Europe at executing counterattacks.
"They are very dangerous in this moment of the game, they defend, wait for the opponent to lose the ball and then it's difficult to stop them," he said, emphasising the number of swift attacking players in Alonso's squad.
"He uses the style that suits his players more, five or six … of them could run the 100m with Marcel Jacobs at the Olympics."
Mourinho dismisses the idea that Roma's third consecutive appearance in the semifinals of a major European tournament puts pressure on the squad.
"We have enough experience not to be too excited for being in the semifinals, and not to be too fixated on the fact that it is the first game and that it is played at home," he said.
Paulo Dybala, a crucial striker, and Georginio Wijnaldum, a midfielder, are both set to miss the start of the game owing to injuries, according to Mourinho.
"We'll do everything we can to fully recover them but we must prepare the match regardless of their availability."
The return leg will take place on 18 May