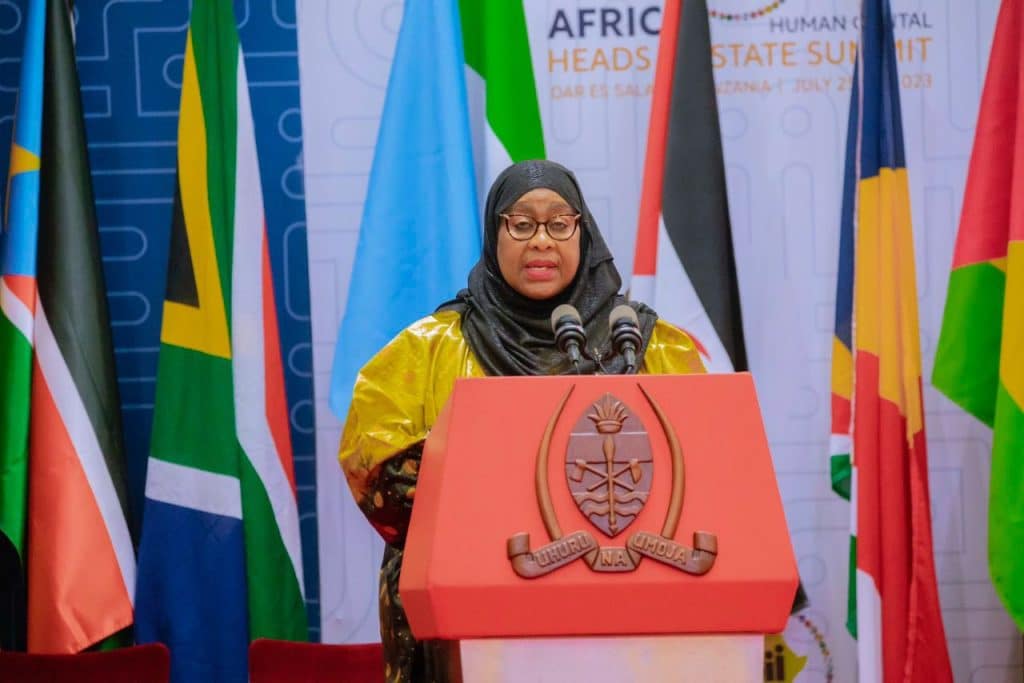 President Samia Suluhu Hassan has directed the Ministry of Culture, Arts and Sports to ensure two state-of-the-art stadiums are constructed ahead of the African Cup of Nations (AFCON) 2027.
On Wednesday, CAF President Patrick Motsepe announced Tanzania and two other East African states namely; Kenya and Uganda as joint hosts of AFCON 2027. After the revelation that East Africa's trio will host the tournament, Tanzania's Head of State took to social media to thank God as well as congratulate those who ensured that Tanzania grabbed the 'precious' opportunity.
"I direct the Ministry of Culture, Arts, and Sports to ensure proper preparations including the timely accomplishment of two state-of-the-art stadiums in Arusha and Dodoma," the President shared in her X (formerly Twitter) account.
Read Also: BREAKING: Kenya, Uganda and Tanzania to host AFCON 2027
The East African bid, known as 'Pamoja,' was submitted to CAF on the deadline day and received by CAF General Secretary Veron Mosengo-Omba in Cairo, Egypt. Notably, Kenya presented several facilities in its bid, including the 60,000-seater Moi Kasarani, the 30,000-seater Nyayo National Stadium in Nairobi, and Kipchoge Keino Stadium in Eldoret. The training grounds featured in the bid included MISC Kasarani Annex, Police Sacco Stadium, Kenya Utalii College Sports Club, Ulinzi Sports Complex, and Jamhuri Sports Complex.
Uganda proposed the Mandela National Stadium, Namboole, as a potential venue, also promising to build two more venues for the tournament. Tanzania, on the other hand, showcased the Benjamin Mkapa National Stadium, the only CAF-certified stadium among the three nations.
Additionally, the CCM Kirumba Stadium in Mwanza, Chamazi Complex (home to Azam FC), and venues in Dodoma, Arusha, and Zanzibar are set to be upgraded to meet the required standards.