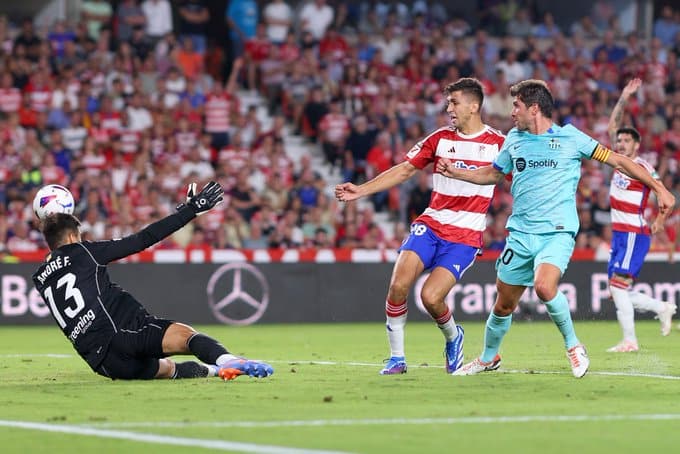 After Granada's winger Lamine Yamal set a record for the league's youngest goal scorer at 16 years and 87 days, Barcelona's substitute Sergi Roberto struck late to salvage a 2-2 draw.
Bryan Zaragoza, a forward for Granada, scored twice in the opening period to give the home team a two-goal advantage, but Yamal scored a close-range goal for Barca shortly before halftime to get the visitors back into the match, and Roberto earned a point in the 86th minute.

Barcelona is currently in third place with 21 points after nine games, one point behind Girona and three points behind Real Madrid, who are currently in first. With a game remaining, fourth-place Atletico Madrid has 19 points.
Fabrice Olinga of Malaga, who scored against Celta Vigo in 2012 at the age of 16 years and 98 days, held the Liga record, which was broken by Yamal.
He had already broken the record for Barça's youngest debutant in an official match in August, and in September, when he made his debut away to Georgia in a Euro 2024 qualifier, he broke the record for Spain's youngest ever international and scorer at 16 years and 57 days.
Yamal and Roberto's goals gave Barca a point as they struggled in the first half but excelled in the second half when Andre Ferreira of Granada had to make several saves.
In the first half, clever Zaragoza missed at least two further excellent opportunities to increase Granada's lead.
In the 87th minute, soon after Roberto had levelled for Barca by scoring on a first-time attempt from Alejandro Balde's cross, he also hit a tremendous shot against the post.
Following loud protests from Barca's players and manager Xavi Hernandez, the referee disallowed a Joao Felix goal in extra time due to a contentious offside in the build-up.