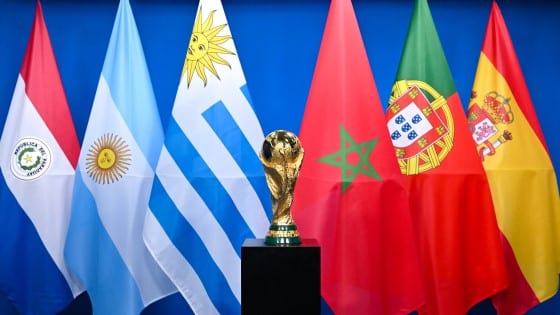 According to FIFA, actions would be taken to "mitigate the environmental impact" of the three-continent 2030 World Cup.
FIFA announced Morocco, Spain, and Portugal as the hosts of the 2030 competition last week. Uruguay, Argentina, and Paraguay will also host the tournament's opening matches to commemorate its 100th anniversary.
Climate groups criticised the plan to have the tournament on three continents, pointing to emissions caused by the increased travel necessary.
FIFA noted that only three games would be held in South America on its website, adding that Morocco, Portugal, and Spain would serve as the tournament's hosts in 2030.
"As a result, the tournament's 101 games will be played in a footprint of nearby nations with good infrastructure, substantial transportation networks, and close physical proximity.
"FIFA will take all necessary steps to lessen the FIFA World Cup's negative environmental effects. It's also important to note from a sustainability perspective that only one bid greatly cuts down on travel for site visits and other meetings.
Six of the 48 teams have already been confirmed, after to FIFA's confirmation that Uruguay, Argentina, and Paraguay will all automatically qualify for the tournament.
"Morocco, Portugal and Spain, as tournament hosts, and Uruguay, Argentina and Paraguay, as hosts of the centenary celebration, will qualify automatically from the slot allocation quota of their respective confederations," stated FIFA.