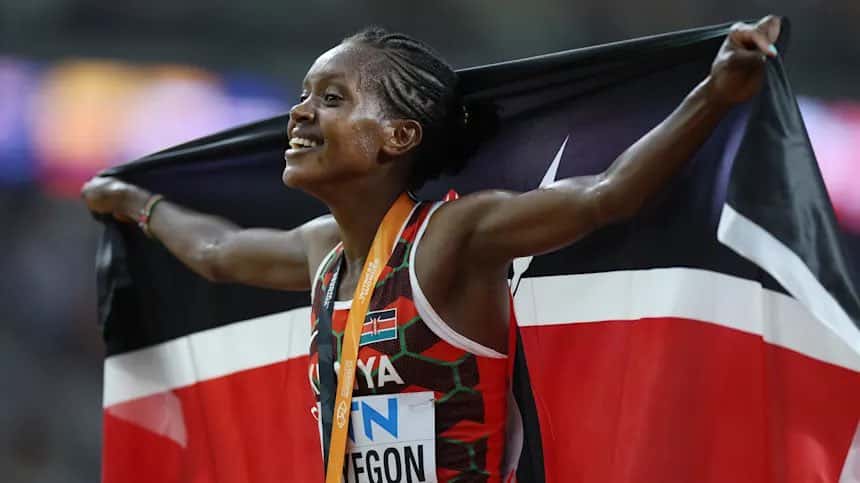 The rivalry between Kenya's Faith Kipyegon and Dutchwoman Sifan Hassan is set to continue next year after the 1500m and 5000m record holder hinted at switching from the track to race in marathon.
The 29-year-old Kipyegon and Hassan have had great battles in the track with the most recent being at the World Athletics Championships in Budapest, Hungary, where the Kenyan runner defeated the Ethiopian-born twice to the gold – in the 1500m and 5000m.
Kipyegon and Hassan are two of the greatest milers in history have been responsible for some of the most thrilling moments in track and field in recent years owing to their rivalry. This season, Hassan competed and won the women's Chicago marathon in 2:13:44, the second-fastest time in history to the 2:11:53 world record Ethiopia's Tigist Assefa set in Berlin, Kipygeon rounded off her season by winning a bronze medal in the women's mile at the inaugural World Road Running Championships in Riga, Latvia.
According to Kipygeon, her decision to race in Riga was planned to help her prepare for marathon races from next year. "I was using it (running in mile) to prepare for marathon, it was my first race towards marathon, so very soon you will see me compete in marathon, watch me in Berlin next time, one day one time, when the time comes, I will run the marathon," said Kipyegon during an interview with a local TV Station.
Kipygeon added: "I train with marathoners and that motivates me a lot, I may be forced to skip half marathon and go straight to marathon, but I hope I graduate slowly, will definitely race in marathon, I am burning to race in marathon so watch out, and when the time comes I hit the road, be assured of a world record going down."
Kipyegon further revealed why she is targeting to win a gold medal at the Paris Olympic Games by saying: "If I win three times back-to-back Olympic titles, it will motivate the young generation and it will motivate me as well, it will be a legacy that I have left behind, winning three gold medals in the Olympics will be incredible."
On her message to upcoming athletes, Kipyegon, a mother of one, said: "I was trying to defend my title and also motivate young mothers that it's possible to get back to what you do even after having a baby," she said, adding: "I will tell the young athletes to work hard, you have to work hard every morning. Your time to shine will come and you will enjoy the fruits. It's all about being patient and keep going."