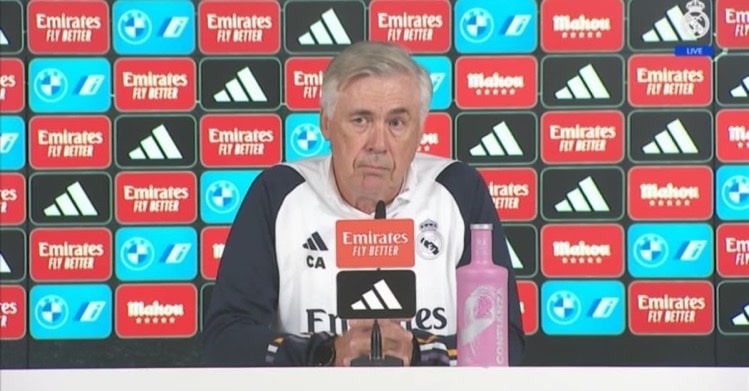 England midfielder Jude Bellingham has been confirmed by coach Carlo Ancelotti as fit to play against Barcelona on Saturday.
Bellingham was taken out of Real Madrid's Champions League victory at Braga due to a thigh pull
With 11 goals and three assists in 12 appearances across all competitions since joining from Borussia Dortmund, the 20-year-old Bellingham has made the switch to Spanish soccer appear incredibly simple.
He became the second Real Madrid player to score in each of his first three Champions League games, following Christian Karembeu in 1998.
He scored the game-winning goal in Real Madrid's 2-1 victory over Braga.
"(Bellingham) will play because he is felling well, totally recovered.
They have removed the overload (in his muscle)," Ancelotti told a press conference on Friday.
"I don't have to explain to him what a Clasico is, everyone knows what it means. It's a worldwide match."
Ancelotti stressed that the game should not be viewed as a final, although admitting the intense excitement surrounding it.
"We are motivated, it's an important, special game…
"But it's only the first Clasico of this season, there will be more… Super Cup, the LaLiga game at our home, Copa del Rey, Champions League…
"There are so many opportunities for us to meet again that makes me have the feeling that tomorrow's game will only be the first of many… And we're in good shape."
In the midst of questions regarding the role of veteran midfielder Luka Modric in light of the rapid development of young players like Bellingham, Eduardo Camavinga, and Aurelien Tchouameni, Ancelotti claimed he had never had to explain his selection choices to players.
"Players are all professionals and don't ask for explanations. In the same way, I don't usually give explanations to those who don't play.
There is nothing to worry about," Ancelotti said about Modric's role.
"We are working with a new system and things are changing, sometimes we rotate to keep the squad fresh and motivated. That's all."
With 25 points from 10 games, Real and Girona—the season's surprise packages—are tied for first place in the La Liga rankings.
With two games remaining, Barcelona is two points clear of Atletico Madrid in third place with 24 points.