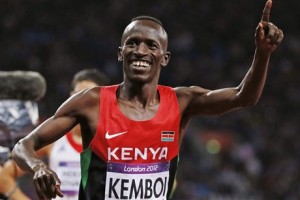 Ezkiel kemboi was born on 25th May 1982 in Matira in Kenya.
Career :
Ezekiel Kemboi is one of only three men to have won both Olympic and World golds in the 3 000m steeplechase, along with Reuben Kosgei and Brimin Kipruto. He only took up athletics after he finished school in 1999, but still won the African Junior Championships in 2001 despite taking a tumble.
Kemboi went on to finish second behind compatriot Stephen Cherono at the Commonwealth Games the next year, before beating Cherono (now racing for Qatar) in an epic duel at the World Championships the next year. In 2004 he won gold at the Athens Olympics ahead of fellow Kenyans Brimin Kipruto and Paul Kipsiele Koech.
Palmares:
-2001: 1st in the reduced Junior African championship
-2002: 2nd in the Commonwealth Manchester Games
-2003: 1st in the Abuja African games
-2004: 1st in the Athens Olympic games
-2005: 2nd in the Helsinki World championship
-2006: 1st in the Melbourne Commonwealth games
-2007: 2nd in the African games of Alger
-2010: 2nd in the African championships of Nairobi
-2011: 1st in the World championship of Daegu
-2012: 1st in the Olympic games of London
Personal records:
-3000m 7 min 49s 95 on July 30, 2011 in Arzana
-3000m steeple 7 min 55 s 76 on July 22, 2011 in Monaco
[youtube]http://www.africatopsports.com/2012/11/19/ezekiel-kemboi-la-biographie/[/youtube]
[youtube]http://www.africatopsports.com/2012/11/19/ezekiel-kemboi-la-biographie/[/youtube]