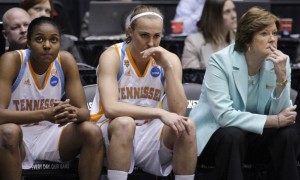 The Irish refused to lose on the night when they honored the two winningest players in program history — senior guards Skylar Diggins and Kaila Turner.
Despite trailing by as many as 15 points at one point in the first half, No. 2 Notre Dame came charging back to grab a 79-68 win over Syracuse in Purcell Pavilion on Tuesday.
In 26 seasons under Coach Muffet McGraw, Notre Dame (26-1, 14-0 Big East) has only lost three Senior Night games.
"We were not going to do that," Diggins said.
Rattled by some early-game jitters and the emotion of the pregame ceremonies, Notre Dame started freezing cold from the field, missing its first seven shots. Junior guard Kayla McBride finally broke the ice with a made free throw almost three minutes into the game. But the Irish quickly found themselves in 22-7 hole with 12:45 remaining in the first half.
That was when Diggins' refuse-to-lose mentality seemed to kick in.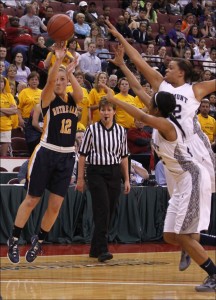 She quickly hit a 3-pointer to quell the Orange flames and eventually powered Notre Dame to trail Syracuse (22-5, 10-4) by only three points heading into halftime, scoring 21 points in the first period. She finished with 24 points.
"Skylar was amazing running the show and attacking," McGraw said. "Shedidn't let their press slow us. We kept the pace that we wanted."
McBride finished with a career-high 25 points and became the 31st player in program history to reach the 1,000-point milestone.
But she recognizes that challenges like Tuesday's game provide valuable learning opportunities for the Irish to prepare for postseason play.
Though Tuesday night was Senior Night for Notre Dame, the Irish still have one remaining home game. They renew their rivalry with No. 3 Connecticut on Monday in Purcell Pavilion. The Irish also likely will host the first two rounds of the NCAA tournament in March.
Read also:
http://en.africatopsports.com/2013/02/26/basketball-uconn-women-were-frustrated-for-brianna-banks-injury/