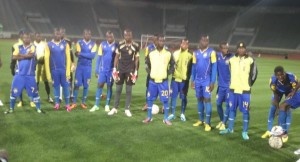 The AS Douane of Lomé needs an an achievement in two weeks to try to turn the tide in the return match of the 16th round of the CAF Cup. The first leg was not at all easy for the Togolese (3-0) who made the journey with confidence.
Especially in the first half or at the start of the game, the Customs officers have conceded the first goal, the work of the Ivorian, Bobley Anderson. This comes in the 14th minute to score his double staff meeting. The paramilitary team of Togo had trouble to worry the WAC.
In the second period, the men of Badou Zaki were faster and are successful.
The Congolese Lys Mouithys drives the nail on the score to 3-0 after a shining pass from his compatriot Fabrice Ondama.
Scheduled for 07 April, the second leg looks very complicated for the band of Gneni Sebabi.