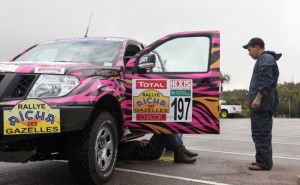 After the depart, at the Trocadero in Paris, the Rallye Aicha des Gazelles is at the gateway of Morocco in El Jadida.
Dominique Serra, the creator and director of the competition at the first briefing on Moroccan soil, congratulated the 46 teammates:
"I am very proud of your determination because the rally was my dream and each of you carries with me," said Dominique Serra before unveiling the program of activities: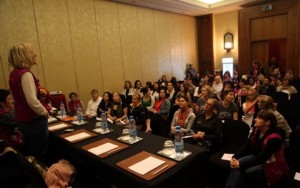 "Tomorrow, the day is a busy day for: scrutineering, mechanical workshops, medical formalities … the procedure implemented in Trocadero will also be play in El Jadida like an orchestrated musical score."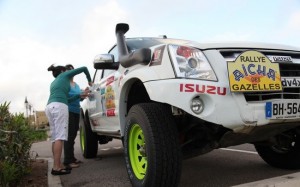 Crews have got orange protective vest CHACOK. The names of participants and the sponsor's logo on the back cover of the protective vest for a 100% personalized effect.
Read also :
http://en.africatopsports.com/2013/03/16/rallye-aicha-des-gazelles-two-palanca-negras-in-the-desert/
http://en.africatopsports.com/2013/03/16/rallye-aicha-des-gazelles-300-gazelles-ready-for-departure/
http://en.africatopsports.com/2013/03/16/rallye-aicha-des-gazelles-the-departure-is-this-saturday/
http://en.africatopsports.com/2013/03/14/rallye-aicha-des-gazelles-a-nigerian-and-a-french-woman-competing-for-the-africa-top-sports-trophy/