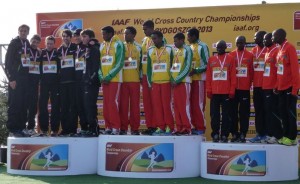 The Ethiopian, Imane Merga, lost his title of world cross champion. The athlete was overtaken by the Kenyan Japhet Korir on Sunday.
They were six to take the lead of the race from two laps to the arrival (Mane Merga,  Korir (Kenya), Kipsiro (Uganda), Mehdin (Eritrea) and Birmingham (Australia)), but the Kenyan was unleashed in the last lap.
He was not worried by the champion who finished second. Korir has completed the 12 km in 32 min 45 seconds.
At 19, Japhet Korir is at his first appearance at the World Cross in seniors. "It was much more difficult. It was not as flat. The coast was really hard. I was ready with hard trainings! I am very happy with this first title in the elderly. I dedicate it to my family and my wife Caroline. And now I want to win the 5000m in Moscow, "said the winner.
For the ladies, the title went to Emily Chebet.
Ranking gentlemen:
1. Japhet Korir (KEN) 32.45
2. Imane Merga (ETH) 32.51
3. Teklemariam Medhin (ERI) 32.54