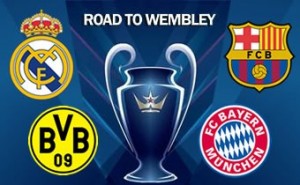 Hispano-German duels will take place in the semi-finals of the 2013 Champions League.
The draw made on this Friday in Nyon, Switzerland opposes on one side Bayern Munich to Barcelona. The last match Barcelona-Bayern Munich had turned to the atomization in 2009 (4-0, 1-1).
The other poster is already known. Borussia Dortmund and Real Madrid had already met this season in the group stage. Spaniards have failed to beat the Germans in two confrontations (1-2; 2-2).
These semi-finals will take place on April 23 and 24 for the first leg and 30 April and 01 May for the second leg.
The big final of the Champions League will take place on May 25 at Wembley in England.