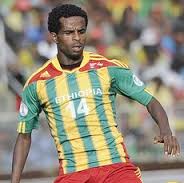 Ethiopian FA vice-president Berhanu Kebede has apologised over ineligible player Minyahel Teshome Beyene.
Ethiopian Football Federation vice-president Berhanu Kebede has reportedly apologised following Fifa's confirmation that they are investigating claims that the East African country fielded an ineligible player in the 2014 World Cup playoffs.
The player in question is Minyahel Teshome Beyene, who played against Botswana on June 8 despite being suspended for the match. Kebede, who is also listed as chairman of the Premier League on the Ethiopian FA website, admits he made a great mistake.
To be continued…