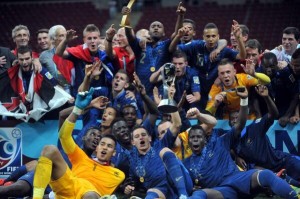 But it was difficult. France has been awarded the world championship less than 20 years on Saturday. This after penalty shootout (0-0 p, tab 4 to 1). Principal architect of the victory, the PSG goalkeeper Alphonse Areola. He managed to stop two attempts of the South Americans to send his teammates to heaven.
Uruguay imposed a physical challenge to the French. Very active in the pressure and recovery, the Celeste players stifled their opponents. Unfortunately, the trigger Nicolas Lopez (5th, 42nd, 58th, and 66th) had a terrible day. Basically, only the killing of Pogba in the midfield made the difference. Thauvin, decisive in this semi-final attempts by some lightning to ignite the game. But in vain.
At the end of the extra time, the game became much closed, Areola got out of the big game, France is the world champion. Earlier, Ghana seized the bronze medal by beating Iraq 3-0.