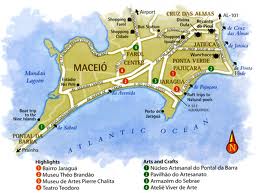 If Black Stars World Cup Group G opponents of Germany currently find it hard to choose a favorable base camp between Salvador and Sao Paulo, Ghana FA did not trail on pointing at Maceio as their next year mass competition in Brazil camp base. Ghana's News Agency has reported.
Maceió is the capital and the largest city of the coastal state Alagoas, Brazil.
The name "maceió" is of Indian origin, and designates the naturally spontaneous courses of water which flow out of the soil.
Ghana is expected to clash Portugal, Germany and USA in a "deadly" Group G.