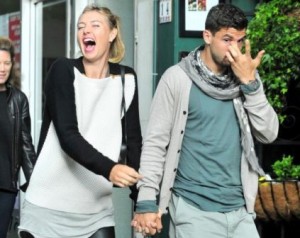 Africa Top Sports is reminding tennis lovers around the world and especially fans of former World No. 1 Maria Sharapova that, if their idol can prove huge on courts; it does not mean that she has nothing to with romantic issues.
The Russian four-time Grand Slam champion stood up high and lauded her relationship with Bulgarian tennis star Grigor Dimitrov.
While saying she has met all she could expect from a man, Maria could not imagine her life without her 22-year-old boyfriend and considers her lovebird as a real blessing.
"I had a challenging [2012] with going through a breakup [with her former fiancé Sasha Vujacic] while winning a Grand Slam," she said.
"So it's nice. I'm in a nice place in my life definitely, and I think I'm much more grateful now for the things I have just because I feel I've experienced a lot, so if I'm able to come home and be happy with someone, it's because I've learned from the past. It's nice to see somebody that's next to me that is building their own life and becoming their own individual, respecting me at what I'm doing, giving me my life but being a huge part of it. It's a very difficult combination to find in any relationship, but I've been really blessed to have that."