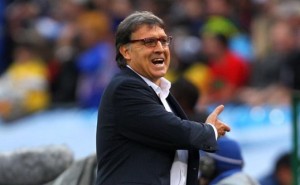 Gerardo Martino, the coach of Barça could not help hailing Lionel Messi who largely contributed to FC Barcelona's 4-1 win over Sevilla yesterday as Africa Top Sports reported early in the day.
The Argentine scored another pair of goals, "I like both versions of Messi ( leader and scorer ) because he is always decisive. Sometimes he does not even gives assists, he merely clump opponents (around him, ed) in the middle and spread the ball for us to finish the work through the wings. He focuses the attention of opponents and any involvement on his part is positive. Unconsciously, those who say negative things about him merely poke his pride. And when you touch the pride of the world's best player, is it our next opponent who has a problem to manage."
This precious goal allows Barcelona to return to the height of Athletico Madrid and Real Madrid.
The three clubs are tied with 57 points!
The goals of magician Messi!
[dailymotion]http://www.dailymotion.com/video/x1bmwic_sevilla-1-4-barcelona-footyroom-com_creation#from=embediframe[/dailymotion]