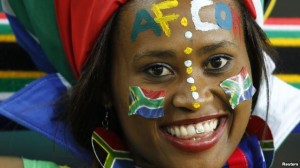 Posters of the last round of qualifying for the 2014 Women Afcon are known. This is released at the end of the first round second leg matches played the past weekend.
For this decisive turn, some interesting meetings are scheduled. The southern African derby between Zambia and Zimbabwe, North African clash between Algeria and Tunisia as well as Senegal-Cameroon.
Namibia already qualified!
The African champion title (Equatorial Guinea) should not suffer too much against Côte d'Ivoire while Nigeria Rwanda. The first games are scheduled are to be taken on 23, 24, May 25 and with return legs on June 6, 7 and 8. So on the evening of June 8, we we'll know the 7 qualification awaited and the host country Namibia.
The final phase of the competition is scheduled for October 11 to 15, 2014 .
Program last ties
Algeria – Tunisia
Ethiopia – Ghana
Côte d' Ivoire – Equatorial Guinea
Rwanda – Nigeria
Senegal – Cameroon
Comoros – South Africa
Zimbabwe – Zambia
Results of the preliminary round
Tanzania – Zambia 1-1 (1-2)
Mali – Ivory Coast 0-1 (0-4)
Morocco – Algeria 0-0 ( 0-2)
Tunisia – Egypt 2-2 (3-0)
Ghana – Burkina Faso 3-0 (3-0)
Kenya – Rwanda 2-1 (0-1)
Zimbabwe – Botswana 2-1 (1-0)