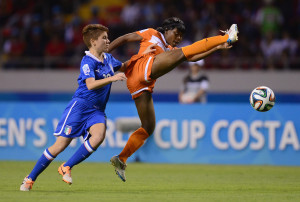 Eliminated after two defeats in as many games, the Shepolopolo played last night their last match at the FIFA Women's World Cup U17. And Zambia was against Costa Rica, the host country which is also eliminated. They wanted to reward their public for their support with mere win. But in vain.
Zambia, however, sounded by a score opening by Sofia Varela in the 3rd minute, will recover and equalize by Grace Chanda five minutes later. After the break, Maria Arraya scores against his camp in favor of Shepolopolo who get their first win in the Women's World Cup U17.
Nigeria to keep the head of group D
Already qualified, Ghana have probably slowed down in their last match against Canada. Result: a 2-1 defeat with two goals from Marie Levasseur and an achievement of Sandra Owusu Ansah for Black Maidens. Ghana will face Italy in the quarterfinals.
The third African representative will make their last outing Monday against Mexico. The Flamingoes of Nigeria have already qualified after two consecutive wins.