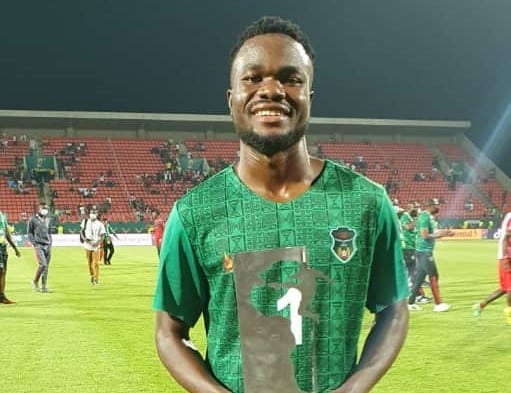 Malawi goalkeeper Charles Thom has been rewarded with pieces of land and $1,200 following his man-of-the match displays in the 0-0 draw against Senegal at the Africa Cup of Nations in Cameroon on Tuesday.
Real estate firms, Hills and Associates Limited and Sulsdec Green Villages have rewarded the debutant Thom with the pieces of land in Lilongwe where he plays for Silver Strikers FC.
To spice it all, ICT company, Sparc Systems LTD, has honoured its Malawi Kwacha (MK) 1 million (MK800=$1) pledge to Thom for emerging as the man of the match award in the Group B game.
Sparcs Managing Director Wisely Phiri told Malawi FA media that they felt proud to associate with the exploits of the 22-year-old keeper who stepped in for injured Ernest Kakhobwe in the game against Senegal.
 "We decided to beef up the morale by giving the goalkeeper 1 million Kwacha to appreciate the outstanding work he has done for the Senegal vs Malawi game," Phiri is quoted saying.
 "Football is more than just sport. It plays a role in international development by putting the country on the map and does bring positive change to our youths.We wish out team all the best. They should know that the whole country is behind them."
Thom was also quoted as thanking Spacs for the gesture saying: "But like I said after the match, the biggest recognition should go to the whole team for the effort to get these results.
Earlier Hill and Associates also rewarded striker Gabadinho Mhango with a 20m x 30m piece of land valued at $5, 625 in the capital Lilongwe for scoring a brace in Malawi's come-from-behind 2-1 win over Zimbabwe on Friday.
Furthermore, the firm offered the rest of the players a 40 percent discount for any piece of land they may wish to buy in recognition of their relatively impressive start to Group B AFCON campaign.
A poultry and animal feeds firm, Kelfoods, also offered each player for the 129th ranked team an eggs tray worth $4 for a year if they beat Senegal on Tuesday.
Malawi president Lazarus Chakwera had also pledged to reward each player $1,200 if the Flames beat Senegal.
Malawi have since qualified to the Round-of-16 as among the third best teams across the six four-member groups.