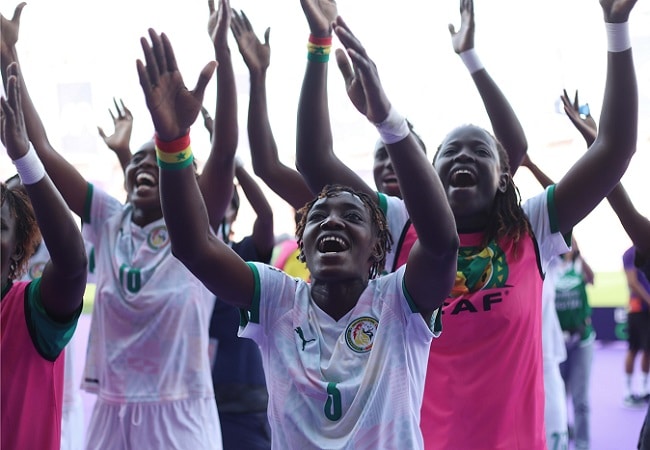 Senegal are with hope to make history when the Teranga Lionesses will face off the Copper Queens of Zambia in quarter-finals of 2022 Women's African Cup of Nations (WAFCON) this Wednesday evening.
The game taking place at the Stade Mohammed V in Casablanca with kick-off time 19h00 local – (17h00 GMT), has somting special at stake. The winners wiil be directly qualified for the next FIFA Women's World Cup in Australia and New Zealand, which would be a first for either of these nations from the four. And the Lionesses coach Mame Moussa Cissé urges her Ladies for this qualification.
Also Read :  WAFCON 2022 : SENEGAL HEAD COACH HAPPY FOR HIS SIDE'S PERFORMANCE DESPITE LOSS
"No speech can motivate more than the stakes of this match, a place in the last four of this competition, but above all qualification for the World Cup. This generation can be a pioneer in Senegal, and change the course of the history of women's football in the country." Said Cissé.
In turn, Ndeye Awa Diakité believes that qualifying for a FIFA World Cup will bring so much to women's football in Senegal.
"Being the first generation to be able to do this must not be synonymous with the last. Our young sisters are watching us. They must now say to themselves that it is possible." Said Diakité ahead of the biggest game of her and her country's history.
The Lionesses of Teranga will be boosted by the return of three key players in Coumba Sylla Mbodji, Anta Dembélé and Nguenar Ndiaye, who have all again tested negative for Covid-19.
"Zambia is not to be taken lightly. They finished first in a group that contained Cameroon and Tunisia, two difficult teams to play against, which we met during our preparation for WAFCON. We are aware of our strengths and will give everything to win". Warned Senegal's Ndeye Awa Diakité, but believes in the team for the clash.
Also Read : WAFCON 2022 : TOGO SINK IN FRONT OF QUALIFIED ZAMBIA AND EXIT COMPETITION
On the other hand, the Copper Queens are full of confidence ahead ot their clash.
"We are well prepared. It is true that we have come a long way, but since the second group game we have been stepping up." Said Hazel Nali, Zambia's goalkeeper.
As the goal of qualifying for the World Cup hugely motivates both teams, the Zambian coach Bruce Mwapé, is aware of the performance of their opponents but doen't fear them.
"They are a good team who did not arrive at this level by chance. We have a lot of respect for them. But we don't fear them.
"This is not the time to give up." Said Bruce Mwapé.
Also Read : WAFCON 2022 : CHECK OUT QUARTER-FINALS FIXTURES
Senegal and Zambia have a fairly similar playing identity, relying on an attacking trio (Mapepa-Chanda-Chitundu for Copper Queens and Diallo-Ndiaye-Baldé supported by Diakité for Senegal) and a solid defence (both have conceded only one goal in the tournament to date).