The murder of Reeva Steenkamp has been a serious issue hunting Pistorius. Oscar's uncle Arnold Pistorius spoke to The Associated Press and two other South African journalists about his nephew's issue.
He says the Olympic athlete is "numb with shock, as well as grief" over the death of his girlfriend Reeva Steenkamp.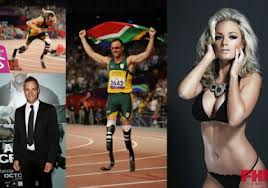 Arnold Pistorius said: "They had plans together and Oscar was happier in his private life than he had been for a long time."
 Pistorius after facing the Court on Friday has since been held custody by South African Police for premeditated murder against him but his family strongly rejects the judgment.
However, Oscar did not elaborate on what sparked the shooting on Valentine's Day.
Read also:
http://en.africatopsports.com/2013/02/15/oscar-pistorius-golden-boy-management-family-dispute-murder-allegations/