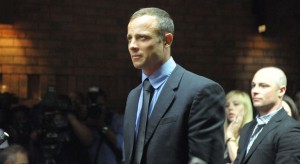 Oscar has been granted bail pending his trail for killing his girlfriend Reeva Steenkamp and is due to appear in court on 4thJune.
Many people have however reacted to Pistorius bail, Kim Myers, a friend of Reeva said, "I think it is important to remember that someone lost their life," 
Pistorius left the magistrate courtroom in a truck whiles been chased by reporters on motorcycles. After the magistrate announces his decision, at least one man shouted "Yes!", at the court room.
Watch the video here :
[youtube]http://youtu.be/oZUyMUx-8K4[/youtube]
[youtube]http://youtu.be/hCc10ZoOWQs[/youtube]
Read also:
http://en.africatopsports.com/2013/02/22/carl-pistorius-oscars-brother-im-relieved-but-there-is-still-a-long-way-to-go/
http://en.africatopsports.com/2013/02/22/oscar-pistorius-the-defense-plead-for-manslaughter/
http://en.africatopsports.com/2013/02/21/oscar-pistorius-the-investigator-botha-removed-from-the-case/
http://en.africatopsports.com/2013/02/19/reeva-steenkamp-her-body-was-buried-at-port-elizabeth-this-morning/
http://en.africatopsports.com/2013/02/19/oscar-pistorius-first-day-of-hearing-video/