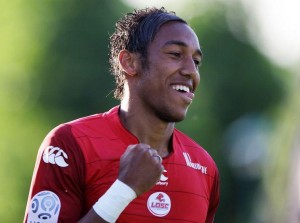 Pierre-Emerick Aubameyang to PSG, the Gabonese striker of Saint-Etienne, although under contract until June 2016 with Saint-Etienne interests many clubs including Chelsea.
But he is much interested in PSG and said: "I feel ready for anything. Two years ago, I scored two goals per season … if I have to go, I'd like to maybe go through an intermediary club. This would allow me not to take the plunge right away, unless I have a really good proposal in a club where I can install and play. Can PSG interest me? Yes, sure, it might interest me. After all, do they Parisian leaders want me? I do not know, we'll see. It will be boring to play with beside Ibra, right? '
His father also confirmed his runway to PSG, while suggesting that many Italian clubs are in the ranks also … It promises!
Pierre Aubame, the former Gabonese international has entrusted to TMW."There are many interested clubs in England – (Chelsea or Tottenham), Germany (Borussia Dortmund in particular), in Italy and Paris Saint-Germain in France. Fiorentina? We spoke with the club, which asked for a rendezvous. I have to see when I can go to Italy. There is an interest and it is concrete. I checked. Fiorentina wants my son, we will make an appointment, but I do not intend to bring Peter. AC Milan? If the club wants him back, it would be a great honor and a pleasure. A dream. AC Milan is a family (…). Return to Milan, it would be like to return home. "