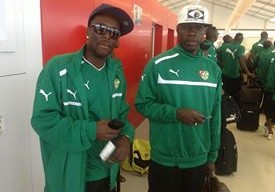 Originally scheduled at 13 hours GMT, the plane that was to take the Hawks still nailed to the Lome airport. The selection of Togo is not ready to go to Tripoli for a macth accounting for the 5th day of the qualifying for the World Cup, Brazil.
According to reliable sources, the Togolese players expect their premiums.
The players had demanded their bonus win of the friendly match against Equatorial Guinea 1-0 and the camping of the match against Libya. Some players had discussed the prevailing insecurity in Libya.
Alaixys Romao and Jonathan have refused to go to play any game in Libya, brandishing the trauma of the drama in Cabinda.
The meeting between the Knights of the Mediterranea and the Hawks is scheduled for this Friday afternoon. It is certain that this delay, Serge Akakpo and his teammates will not have the time to recognize the pitch before the game.
It's already a bad start for Togo which has given the smile to its fans after the victory (2-0) over Cameroon in the fourth day played in Lome.