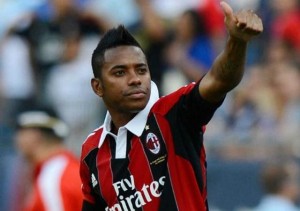 Eight years after leaving Brazil, AC Milan striker, Robinho is on the verge of returning to the club of his beginnings.
Santos has reached an agreement with the 29-years-old, whose contract with the Lombard club will expire in June 2014 to enlist him.
The Brazilian training would be willing to pay between 5 and 6 million for the return of the ex-member of Manchester City. A transaction that would also include the young goalkeeper Rafael (23 years).
The homecoming of the Brazilian international is an idea that would also rejoice Flamengo