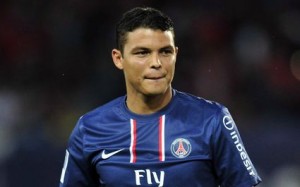 The daily Catalan Sport on Wednesday made his headlines with the imminent arrival of Thiago Silva at Barça. A five-year contract and an emolument like that of Daniel Alves or Iniesta .
Information that make reacted the agent in charge of the image of the Brazilian defender Cadu Machado agent. Quoting in a tweet the agent of the PSG Captain, reported by sports365 Machado denies this information "Thiago Silva and his agent Paulo Tonietto deny the information related to a transfer of the player to Barcelona, as certified by the daily Sport. "
The Brazilian is expected on July 23 to resume training with the champion of France. Arrived at PSG last season, Thiago Silva is under contract with the capital club until June 2017.