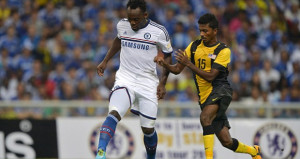 The love between Jose Mourinho and Michael Essien is going to last very long! The Ghanaian was already in the team of the Portuguese technician during his visit to Stamforbridge from 2004 to 2007.
Undesirable in the ranks of the Blues last season, the former Bastia player has received an offer of Mourinho to be on loan at Real Madrid. The return of The Special One who became The Happy One on the bench Chelsea will still be beneficial to the Black Star who is already in the plan of the new coach.
"I know Michael better than anyone. I know he is capable of playing all positions except goalkeeper and striker. He will be very useful for us. "
A statement showing the affection of his "father" as the 30-year-old often likes to call him.